AI Chatbot Toolset
More than just an AI chatbot, you need Conversational AI
Automate and scale consumer interactions on the most popular messaging channels without hiring an army of agents. We will help you deliver engagements so useful and personalized that they feel Curiously Human™.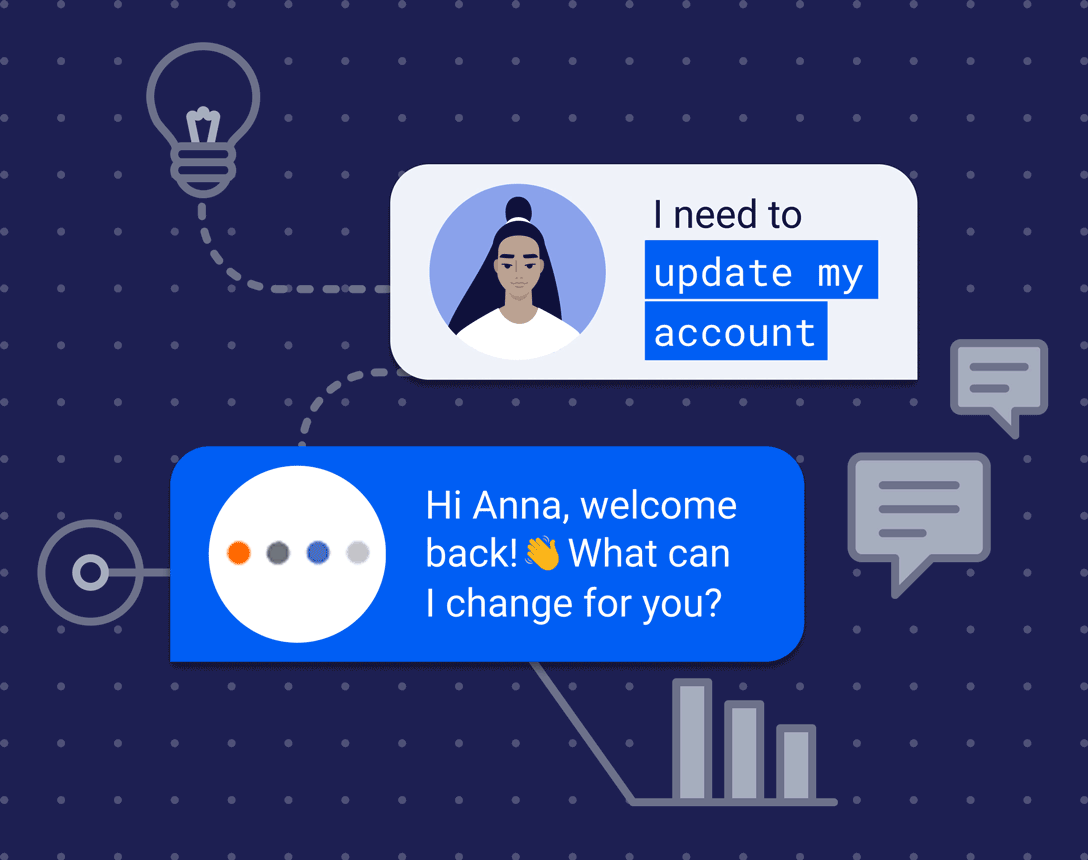 Intent Manager
Discover and understand what consumers really want
Intent Manager makes it possible to understand your consumers' intentions in real time, how well you're fulfilling them, and those that can be easily automated.
Explore Intent Manager
Conversation Builder
Easily build an AI chatbot to automate conversations
Build AI-powered chatbots that work together with human experts to fulfill your consumers' intentions at scale. Create these automated conversation flows with Conversation Builder®, our comprehensive and intuitive chatbot builder with a point-and-click interface — without the need of advanced coding skills.
Explore Conversation Builder
Conversation Builder
A flexible bot management tool
Build AI chatbot conversation flows once, and run them on every messaging channel. Easily integrate into any back-end system, including CRM, scheduling tools, order and inventory management systems, payment platforms, and more.
Curiously Human AI chatbot experiences, built by brands
"We're skeptical about everything. But automation is one of the key things LivePerson does extremely well. They actually deliver on what every company has on their website. We hit 40% bot containment very quickly in only a few months."
Read their story
"Bots are designed for accuracy and speed; humans are masters of empathy and instinct — neither can replace the other. Together, they generate synergy that ultimately drives unmated business outcomes, CSAT, and agent job satisfaction."
Read their story
"When you are messaging Kyla [our AI chatbot], it's like you are talking to a live agent. It's very conversational. I'm receiving lots of positive feedback from the customer. The great thing is they can send messages to our customer service and receive immediate action. And I've spoken to the internal Kyla team, and they are very, very happy. They've provided a lot of positive comments."
Read their story
AI chatbot FAQs
An AI chatbot is the actual digital system, a rules-based program or "robot," if you will. It is created and trained to provide automated responses in specific interactions. Conversational AI is the art and science behind a chatbot platform — the natural language processing and machine-learning tools that can make these virtual agents feel more human-like and helpful on messaging channels.
With natural language understanding, conversational chatbots can understand the context and intent of conversations and provide relevant answers across messaging apps and channels. Today, many consumers do not want to spend the time to find what they need on a website, they would rather just ask someone. But it's not always necessary to have customer service agents respond to simple questions or routine tasks when an AI chatbot can do it quickly without a queue. After all, about 53% of respondents in a market-wide consumer study said that waiting too long for replies is the most frustrating part of interacting with businesses. With the help of artificial intelligence in the form of an AI chatbot, brands can answer questions quickly, leading to both greater customer satisfaction and time saved by your agents, so they can deal with the truly complex issues customers have.
While AI chatbots don't replace human-to-human interactions, they help brands respond faster and scale so they can support more customers overall. This automated efficiency in a contact center can lead to reduced operating expenses and even improved revenue. When chatbots pair with a Conversational AI approach across messaging channels, they can reduce a brand's cost per conversation by as much as 50% vs. voice, increase first-contact resolution rates by 15%, improve average order value by 20%, reduce cart abandonment, and improve conversion rates by 10x.